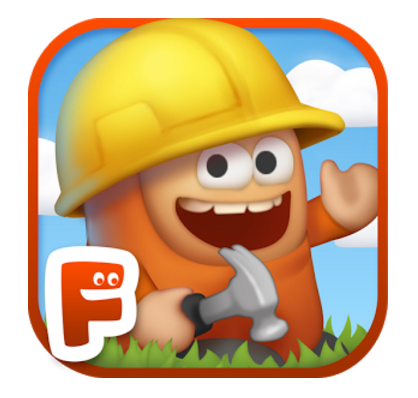 Puzzle games have always been a favourite genre of mine. Physics puzzles in particular are great for all the same reasons, (notably that they encourage creative problem solving) but with the added bonus that they help kids to gain a functional understanding of physics principles and their application.
App developers Filimundus have a selection of highly rated apps to their name, including the "Pippi Longstocking" story app and the "Pettsons Inventions" puzzle game. Today though, I want to take a look at their later physics puzzle game, "Inventioneers".
Inventioneers presents the player with small puzzle scenarios which have a number of elements missing which prevent a goal from be completed. The player adds elements to the scenario from a toolbar at the bottom of the screen to complete the "inventions". Whilst the game is colourful and comes with a humorous edge, it feels less zany and fantastical in comparison with the Pettsons games, instead hardhat wearing characters with different abilities help to solve quirky yet vaguely realistic scenarios (you may disagree with me about that when you see scuba divers being launched out of trees into bathtubs with the assistance of seesaws and hair dryers).
It's a pretty intuitive system, which is good because it lacks any convenient hints beyond some initial pointers. This could lead to younger children getting stuck on a level if they can't find the logic the game is trying to lead them toward. In the app store it claims that the game is designed for 6-8 year olds, but don't take them too seriously on that. It could just as easily entertain kids aged 4 to (cough) 44. If you want to give it to a younger child but you're not entirely sure, there's nothing objectionable in it and the initial 14 levels come free of charge, so you may as well download it for them and see how they get on.
As far as I was concerned chipping out $2.99 on a one off basis for over 100 more levels was well worth it. In addition, both the free and paid versions come with a constructor kit for making new levels of your own. I'd definitely suggest encouraging children to play with this feature as it's where kids can really demonstrate their understanding of the physics concepts and get creative. Also, the game has a mechanism for sharing your own inventions with friends and siblings which is very safe and doesn't include a chat function, you just type the friends in-app nickname to try and solve the puzzles they've made.
My one reservation is a rather weak "Parental gate" function, which instructs the user to do a two fingered swipe in a certain direction to unlock the support page and (in the free version) to access the payment page. Accessing the support page isn't really an issue as far as I'm concerned, but if you want to try the free version of the app first, make sure that your app or play store account is set up to require a password the child doesn't know before allowing payments!
That little moment aside, I'd definitely recommend Inventioneers as a screen time option that's both healthy and fun. Available for both Android and iOS.