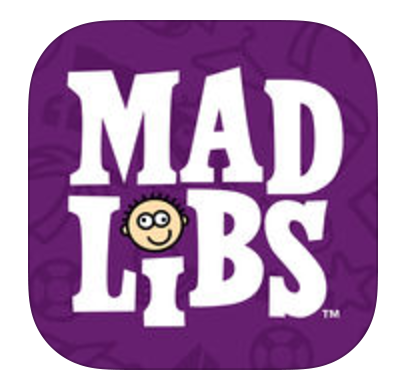 The Mad Libs app makes a great family activity, especially for car journeys, airport lounges or anywhere else you're going to be stuck waiting for a long time. Often it's tempting to just hand over the iPad for a long car journey and leave the kids to entertain themselves. Mad Libs gives us a great opportunity to keep the screen time communal and conversation based. On top of that the Mad Libs game itself is a great way to boost language and communication skills.
How it works
The app claims to have been made for those aged 9 to 11, but it's appeal is much wider than that narrow age range. It uses the classic mad libs format to deliver language based fun. Once you've chosen a story, the app prompts you to enter a selection of different types of words. It also explains clearly what those types of words are for those who are unsure of the difference between an adjective and a verb (child or otherwise). Once you've chosen your words, you're shown a story filled out with those words, often creating surprising and hilarious concepts or pictures. Younger kids especially love to hear and laugh at the results of this linguistic experimentation.
Family fun
You can probably tell I'm a fan of both Mad Libs and this app version of the game. The app is relatively simple in its design and stories are intuitively easy to work through. The automatically available stories vary in quality, but there are plenty of them to get you started. Our kids often wanted to go back and redo the same one 2 or 3 times once they knew what was coming. There are however additional story collections available as in-app purchases, so if those aren't disabled, be aware. The only little moment to pick up on is that a lot of the stories ask for 'part of the body' as one of their word prompts. Depending on their mood or company, some members of the family are inclined to take this hint consistently in the same direction.
Overall I'd happily recommend the Mad Libs app to any family looking for apps that build and encourage language skills in children as well as to anyone looking for a gentle, light hearted way to brighten up a car journey. The app itself is free but extra stories can be purchased in-app. At the moment it's only available for iOS.