Today it seems our kids are fully absorbed by various gadgets. Parents for their part strive to keep an eye on their offsprings' device activity. One of the apps offering to help with that is mSpy. As the name suggests the software lets you keep an eye what your child is doing on their smartphone and computer. Depending on the plan type the app provides access to calls, messages, social media, GPS location etc.
To our taste, the functionality of mSpy is overly invasive and not actually very helpful. The app's focus is on watching everything that a child does, including reading their messages, checking their photos, tracking their location and so on. It doesn't offer much in terms of placing boundaries on how a device is used, though the full Premium version does allow some things to be blocked. Furthermore, the full version of the app requires target iOS devices to be jailbroken, voiding any warranties or service agreements – not really a family friendly option.
Obviously not everyone feels the way we do though, and I can even hypothesise extreme cases where the feature set offered would be the right one for helping a rebellious teen get back on track. Keeping my philosophical bias in mind then, what follows is a review of the non-jailbroken version of mSpy's app.
Plans and Installation
First off, a quick glance at the plans on offer. mSpy doesn't offer any free-trial, so you have to pay up front and hope it's right for you. They have 3 plans, Premium, Basic (which has less features accessible) and no-jailbreak which also has significantly fewer features (yet is for some reason the same price as "Premium"). These plans cost $29.99 a month for Basic and $69.99 a month for Premium and no-jailbreak, with discounts for longer commitments. It's worth noting though, that that's just to cover one device! Their "discount" family bundles offer a 10% discount to cover 3 devices, but a 6 month minimum commitment … if it sounds like too much, that's because it is. That package works out at $359.97 to watch the activity of 3 devices for 6 months.
The installation process of the mSpy non-jailbreak solution is a little bit tricky and atypical compared with other leading parental control software as it doesn't require any software to be installed on the Apple device. Instead, you first need make an mSpy account. Then do an iCloud backup of the kid's device. Then you login into your mSpy account on their site in Safari, choose the device type, enter iCloud credentials and choose a relevant backup from the list. When this is done, all the information mSpy monitors should appear on the Control Panel within 24 hours. Once set up, all monitoring is remote and requires no further access to the device. Obviously entering you iCloud password into a non-Apple service is a security risk in and of itself, but the mSpy team is keen to assure us of their trustworthiness and security measures.
Features
While the non-jailbreak plan offers a more limited number of monitoring functions on iOS than the jailbroken one, our preference for not voiding our Applecare, not going through a complex jailbreaking procedure and not exposing ourselves to further security risks led us to choose that plan. In that non-jailbreak plan you'll find the set of features below available in the mSpy Control Panel.
Dashboard – the main page contains device and account details along with cell phone activity and "10 most calling contacts".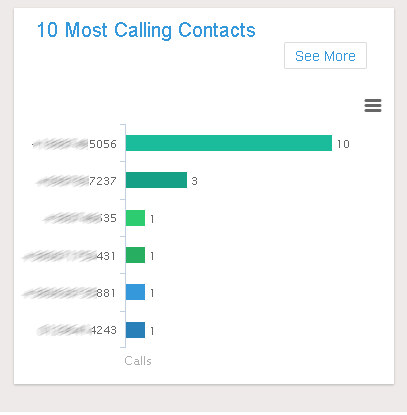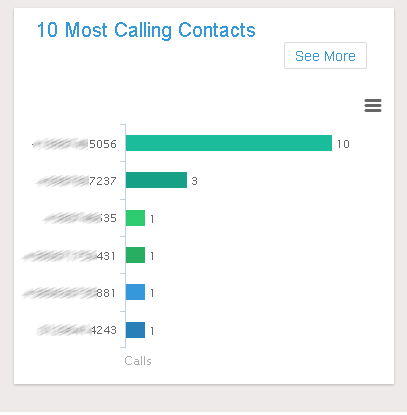 Contacts & calls – lets you check a log of all calls containing their time, date, and duration as well as a copy of the device's contact list with additional information provided about the contacts (e.g. address, e-mail).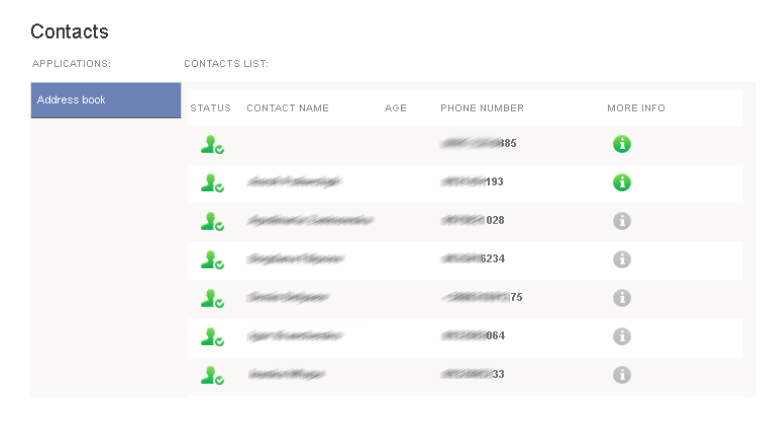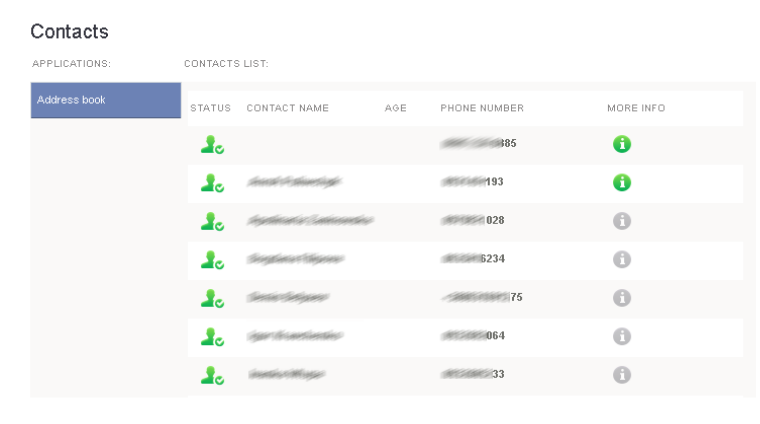 Text messages – spy on your kid's conversations (iMessages are also included) even the deleted ones.
Browser history – see what web pages are viewed from the smartphone, check the search history and monitor web activity.
Events & notes – access calendar events and notes on the target device.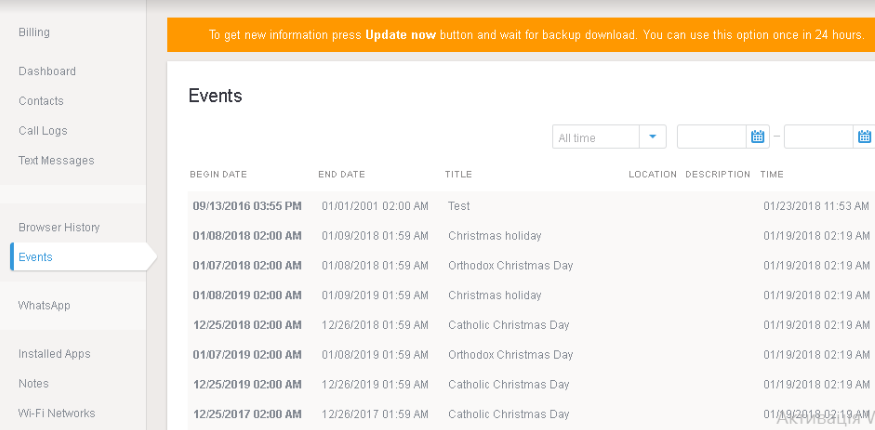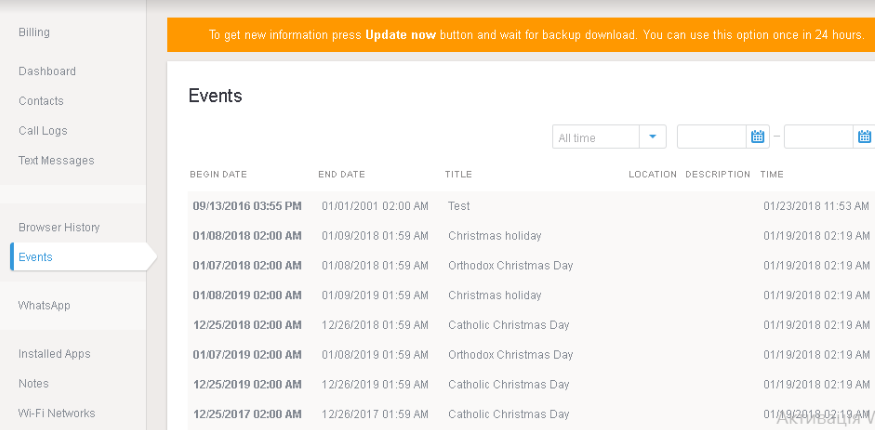 Whatsapp – view the activity of the instant messenger.
Wi-Fi Networks – look over Wi-Fi spots accessed including time and details.
Installed applications list – check all the apps that are currently on the device.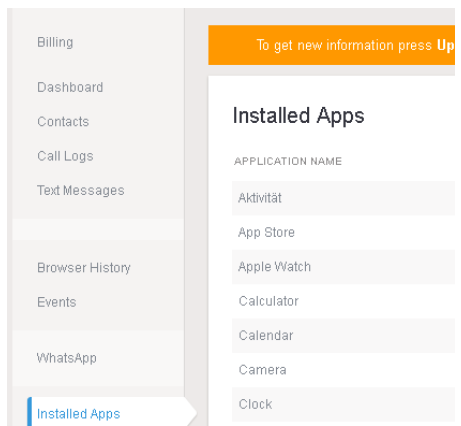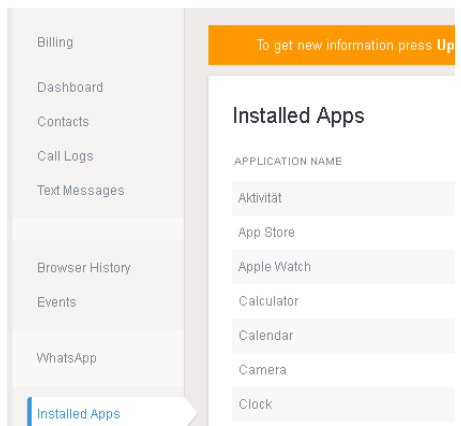 Note that the information on the control panel usually updates every 24 hours if you have automatic iCloud backup enabled on the target device.
Pros
The service provides outstanding logging features to allow users to keep track of their children's calls, messages, contacts etc. Mspy comes with options that many other parental controls don't offer like checking Wi-Fi networks the device has accessed. While the installation process is unusual and not simple, it is well documented and the step-by-step instructions are easy to follow. If you need any help their tech support are available around the clock.
Cons
The feature set of the non-jailbreak solution is very limited. Not only that but it requires iCloud credentials to be entered, creating a potential security risk. The product is far too overpriced, especially considering the limited set of functions the non-jailbreak solution offers. Unfortunately, none of the true "parental control" features are available in that plan, only spying features. If you want to get quick and live assistance over the phone, you'll have to pay for it.
Rating
Time management
Content blocking
Blocking apps
0/10
As the non-jailbreak version of mSpy is all about monitoring the target device, it doesn't provide any kind of blocking, internet filtering or time monitoring functions. In many ways it's not what we would consider a "parental control" app at all, though that's how it markets itself. Usually we have these three areas as separate sections of our ratings, but we combined them into one here as they're simply not what mSpy is trying to offer. Of course they're rated zero, as they're not present and leave parents looking elsewhere for boundary placement and protection tools.
Usability 7/10
mSpy is a little complicated and time-consuming to set up, as you need to backup the device and then wait for it to upload to the Control panel. Their instructions walk you through the process fairly simply though. The Control panel itself is user-friendly and well-designed on both desktop and mobile. The web-based Dashboard UI is clear and easy to navigate. The only usability issue to mention is that because the system relies on iCloud backups, the information about the child's device is not available in real time, but only after the fact. Using it as an effective parenting tool requires a deliberate, review based approach.
Support 5/10
You can reach mSpy support round the clock by live chat, email, phone or mAssistance (tech help with screen sharing). Keep in mind that the latter two options are not free, so you'll need to be ready to pay a one off extra $12.99 for phone assistance and $37.99 for mAssistance!
I reached out to the support team several times. Usually they responded promptly and in helpful fashion, but their troubleshooting suggestions didn't always work and a couple of times I got no-response at all. So it's a bit of a pot luck as to what sort of support experience you'll have.
Overall 4/10
At a glance, mSpy seems like it's going to be a useful application for monitoring what's going on on children's phones. As we tested it though, we discovered a number of drawbacks and issues which rather ruined that first impression.
Leaving aside for a moment our philosophical issues with the mSpy approach to parental controls in general, we found that the product itself looks good and is easy to navigate, but is very limited in what it can provide and ridiculously overpriced compared with the other offerings on the market.