Have you spotted Kidslox latest feature? The ability to set up different custom child modes for different occasions is one that's been requested by Kidslox users for a long time. Well, it's here and ready to go.
Why multiple child modes?
Actually the potential uses of this feature are incredibly diverse and the requests we get for it cite all sorts of different reasons. Fundamentally the feature allows you to set different levels of restriction on a device at different times.
Here's a scenario where several different customisable modes could come in handy (by way of example):
• Your child walks to school in the morning, games or messages would distract them, but you're happy for them to listen to music while they walk so you set up a customisable mode which allows music player apps but blocks everything else.
• Once school time begins, their phone changes to a different custom mode that allows access to a calculator app, a dictionary app and a couple of other school approved classroom tools.
• Once they get home, their phone changes to a custom mode that allows them to access all their apps (but still protects them against inappropriate content online and doesn't allow in-app purchases).
• A couple of hours before they need to go to bed another custom mode is entered that allows them to access only an e-book reader so they can wind down for the day with some reading if they choose.
• Finally, it's time for the screen to go off and it moves into Lockdown mode.
The new feature allows for up to 5 different custom modes to be set up and activated either manually or on a preset schedule.
What devices do custom modes work on?
At the moment, custom modes can only be set up from Android devices or via the online web app. However they can be set up to work on iOS devices as well, even though the device itself will just display "Child Mode" as normal and won't allow the parent to interact with the different custom mode settings. We plan to rectify this inconvenience soon, but for now custom modes need to be implemented from Android or via the web app.
Setting up custom modes
It's easy to set up new custom modes. To do so, simply open the "Restrictions" tab of the device you want to set up custom modes for. At the top of the page there is now a "Child mode" icon and a button with a "+" sign on it. Press this button and a new profile will appear with a "Cat mode" icon (all of the custom modes have different animal icons to differentiate them). Now you can choose which mode to edit by tapping on the relevant icon. Set up any restrictions you want to associate with the profile and press save.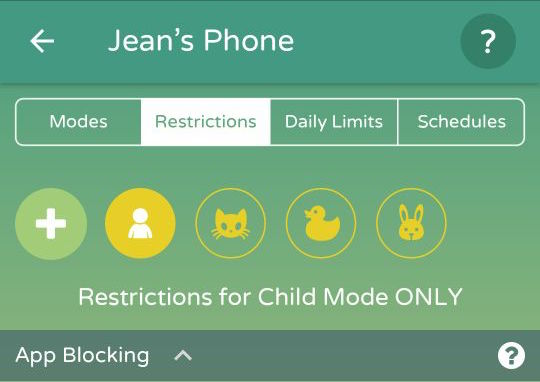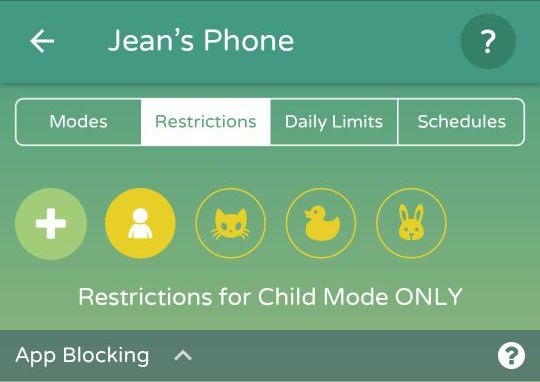 Now when you manually change a device to Child mode using the 3 way toggle, you'll be offered a choice of different profiles to change to.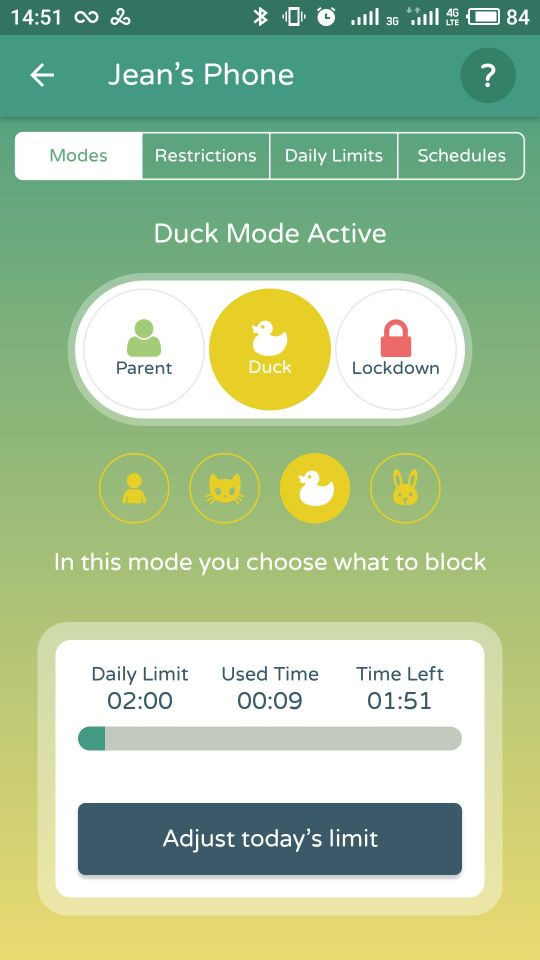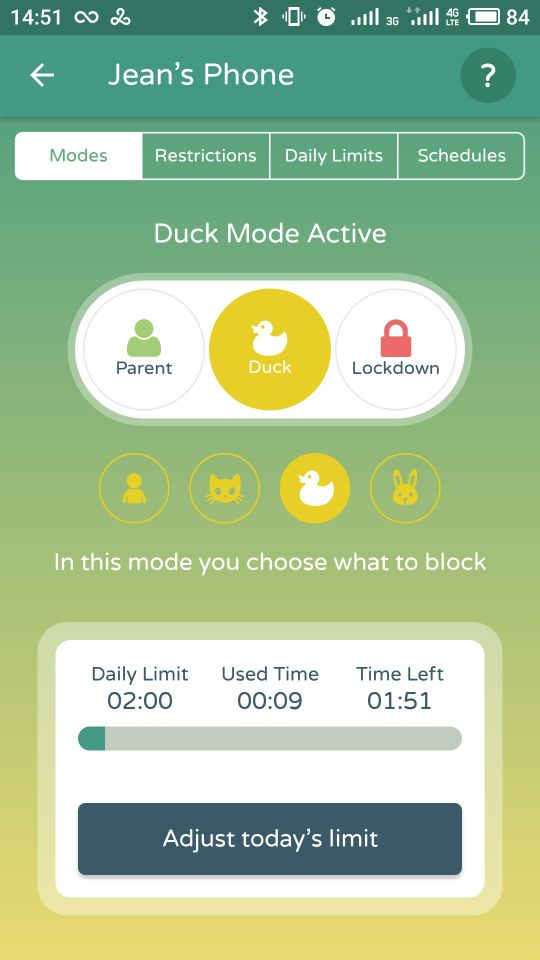 Similarly, when you set up a new schedule, you'll be able to choose to schedule times in a specific custom mode. Or which start in one custom mode and finish in a different one.

Tell us what you think
As always when we release new features, we're keen to hear about your experience with it so we can fine tune and make sure that it works as well as possible for you, so please do get in touch with our support team and tell them what works well, what needs adjusting and any other features and ideas that you think will make Kidslox even better. We love to hear from you.