Screen time addiction and parental control issues make the news more and more these days. Experts from a range of fields offer their views on and solutions to the problem. New products claiming to solve screen time addiction or monitor kids' phones and tablets appear on the market every week.
They all offer different approaches to Internet child protection and digital safety. One quite well known solution is Qustodio – a parental control app to supervise kids online. Here is our Qustodio review.
Qustodio key features
Activity monitoring. You can personalize this feature for every child's device (for a max. of 5 devices on the basic plan). Parents can monitor children's web activity and see how much time they spend on a particular activity including what websites they visit and at what time of day. It allows you to keep a track record of any questionable activity.
The social activity tracking feature may be useful for parents whose children have their own Facebook accounts. It allows you to manage your child's activity on social networks. This includes seeing pages visited, the contact list and other activities. Obviously the appropriateness of this feature depends somewhat on the maturity of individual kids, but for most teens this sort of monitoring seems like an unreasonable invasion of privacy. In theory, children younger than 13 can't have accounts on most social media networks, though some parents do allow this.
App blocking. The application blocking options are surprisingly limited. You can block or allow only those apps that your child has been using previously and only if they need access to the Internet. It seems that Qustodio doesn't block apps themselves but rather blocks the individual app's access to the Internet.
Call and SMS monitoring. For those devices that support calls and SMS there is calls and text messages monitoring option (including quite detailed contact information). The feature allows not only tracking child's activity but also blocking calls and messages – both incoming and outgoing. Or you can just block particular phone number. Using this option you can actually read all the text messages of your child as well.  
The feature is available for Android-based devices only. Also the idea of reading child's messages may look like ethically questionable to some parents and kids.
Content blocking. You can block inappropriate content like pornography by enabling different web site category restrictions or adding individual web addresses to the block list.
Time limits and schedule. You can set daily limits for every device under your account or limit child's access to the device to certain times of day. But schedule options are limited. The minimum time gap you can operate with is one hour which means that you cannot lock the device, for instance, from 10:45 to 11:15.
Device locking/unlocking. There is an option of device locking. Or you can just lock the Internet navigation options on child's device. Parents can also disable protection with one click. There is an option of turning the restrictions off at any time they want.
Location tracking allows parents to see on the map where child's device is located. Available for Android and iOS users only.
Panic button (only for Android users). You can preset up to 4 contacts trusted of people who will receive notification when the child uses this option in case of emergency. It is a bit unclear how this option affects the other device's function.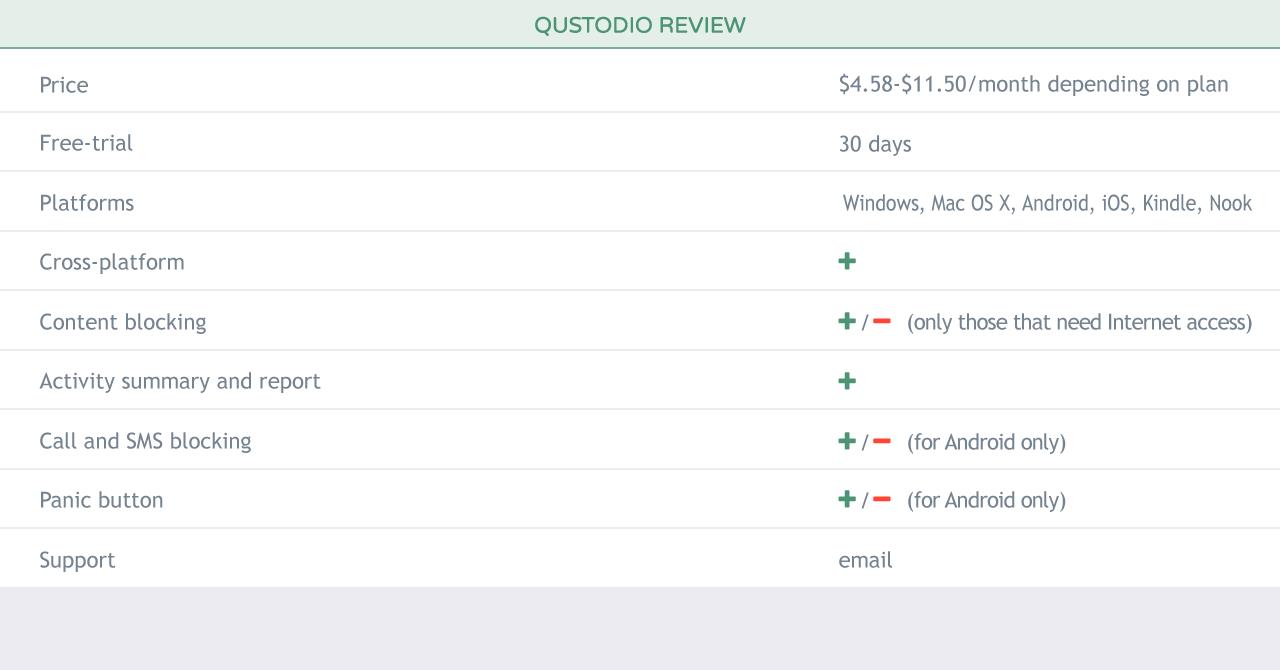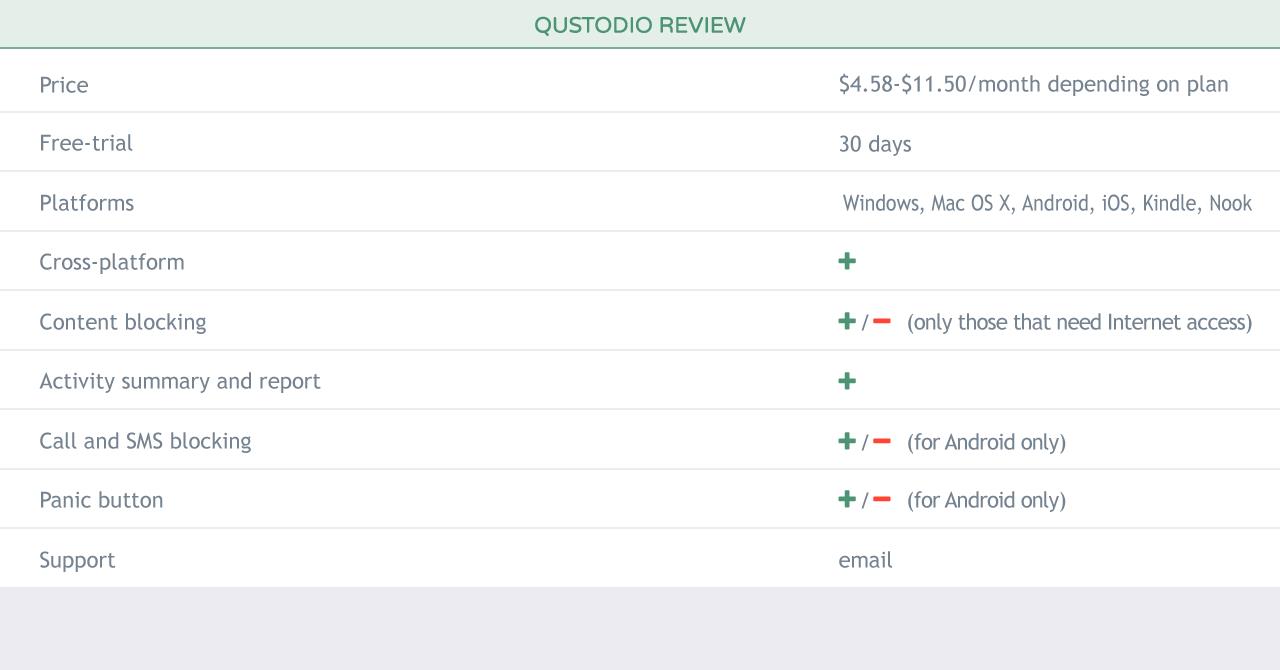 Learn more about Qustodio from our videio review.
What's missing?
The app provides you with basic parental control instruments like content filtering, time tracking and application blocking. But some functions are not supported on all platforms.
Such parental control key feature as app blocking seems to be not that good for one of segment's leaders.
There are some usability issues. For example, you need to use your web browser every time you want to change the settings (at least in iOS version) which is not very practical.
Also there is no simple switch between parent and child modes which is one of the basic options for kidslox). It seems that you have to delete the profile with all the restrictions list every time you want to switch the device to 'parent mode' or at least there is no simple way of doing it.
It's should also be noted that it's more expensive than most of similar offers on the market.
Ratings
Price 5/10
The app is quite expensive. The cheapest plan's price of $4.58/$54.95 seems to be a bit too much in compare to similar products on the market (like kidslox with $3.99/$39.99). The large plan is even more expensive – $11.50/$137.95.
Usability 5/10
The app seems to be user friendly based on the first impression. But still there are quite a few inconveniences like setting up the profile via browser or turning to the 'parent mode'.
Blocking options 5/10
The content filter works pretty good. But it looks like Qustodio blocks only those apps that use the access to the Internet. So, technically, apps aren't blocked – the child can still use some of them offline.
Time limits 8/10
Despite some minor inconveniences Qustodio app provides you with the good tool of monitoring the time the child spends online.
Support 7/10
The support is generally user-friendly. But it seems sometimes that you have to be quite an advanced user to understand all the instructions.
Overall 6.0
This app is better than many other similar products on the market and seems to be quite a popular solution. But if you are looking for better applications' control options and more flexible screen time scheduling instrument at more reasonable price you can look for other options.