What is Kidgy?
Kidgy describes itself as parental control software for parents to monitor their children's digital activity remotely. It is cross-platform software, though Android an iOS are the only platforms that are supported.
One of the ideas standing behind it is to help parents and kids to build the mutual trust and better organize/optimize their family time together. This idea is very good and noble but is Kidgy actually able to do this for you?

User-friendly interface 3/10
First of all, of course, you have to download and install Kidgy on your device and child's device which you want to monitor. Then you have to set each device as a parent device or as a child device. Then you should link those devices together using app code authentification (please, watch our video below to learn more about this).
It remains unclear if you can switch between child and parent modes on the certain device. And is it possible to link together two or more devices (like mother and father) to the device you want to monitor?
Screen time limits 2/10
Surprisingly Kidgy doesn't offer you a lot. It's more about monitoring kid's device like look through their calls (number, duration etc.) and internet activity.
The schedule option is more like a daily planner for the kids run by their parents. It allows you to assign different tasks and check how the kids fulfilled them, but its functionality is limited to that. Though this is a useful feature, it can hardly be called a real screen time control instrument from the perspective of parental control solutions. Most parental control apps give you much more options in this area.
Content blocking and filtering 4/10
The app blocks undesirable or suspicious applications on the child's device. There is an option to set limitations for internet browsing. By using this feature you definitely can block the websites you consider inappropriate for your child but it is not clear whether you can block the browser on your child's device or not (at least on iOS).
You can block certain numbers on your child's smartphone. Also, parents can block incoming and outgoing calls.
Other features 5/10
The Panic button is a very useful option that lets a child to connect his parents immediately in case of emergency. This feature sends a push notification message to the selected number and the color of parent's app interface will turn red.
Kidgy app allows parents to locate where their child is using the location function. With geo-fencing feature, parents can set the virtual fences for the child, and they will be informed when the kid enters or leaves them. So, parents can check if the child's at school or playing in the neighborhood with his friends rather than somewhere else.
Price and subscription policy 2/10
This application gives you very limited functionality for such a price which is $9.99 for monitoring one device and $14.99 for two. Also Kigy grants you just 3-day free trial, and after that your device will be switched to one of the plans and you'll be charged automatically. You have to cancel the subscription in order not to be charged which can become not quite a pleasant surprise for many users.
Summary 3.2/10
Kidy looks more like a child-monitoring solution rather than a full-functioning parental control app. Though it gives its users a couple of useful instruments, still some very important parental control functions are missing or not well-developed.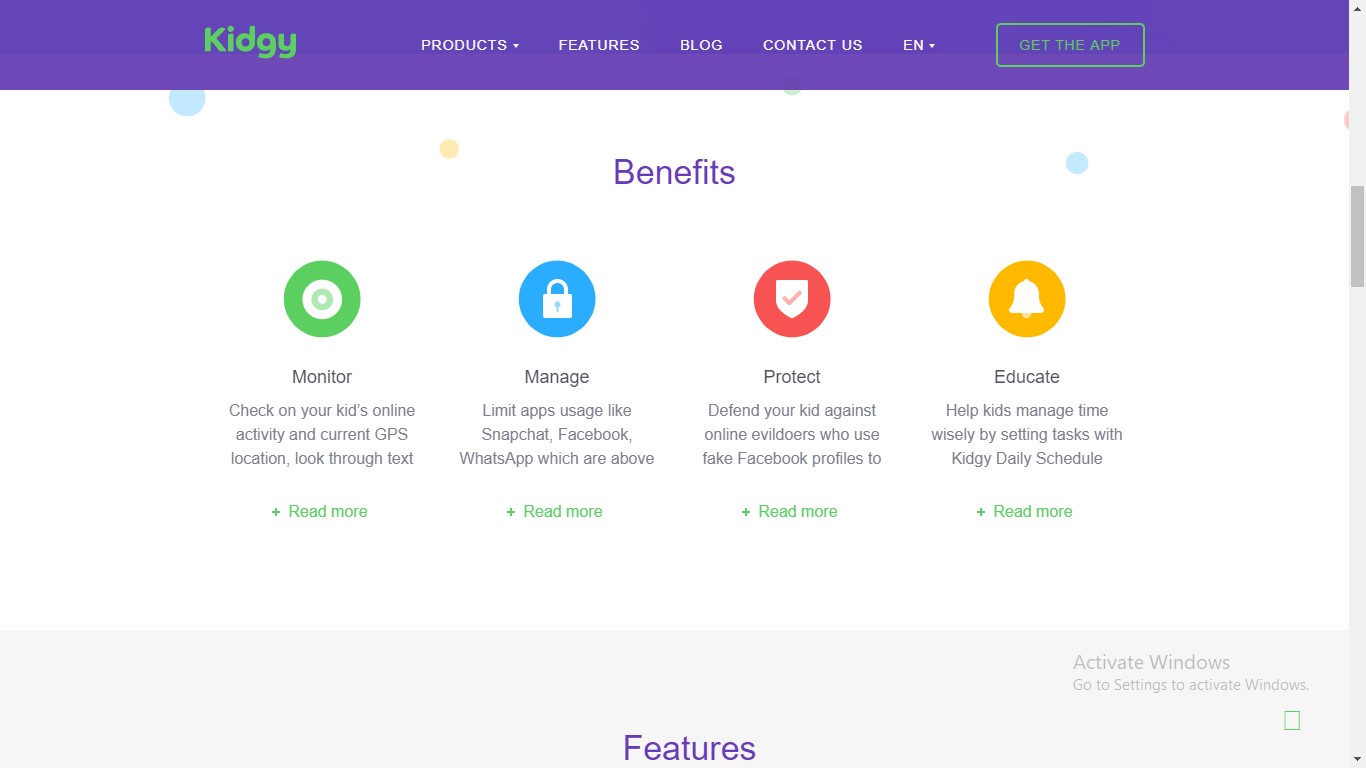 What is missing?
It seems that Kidgy provides you with pretty good instruments to monitor child's digital activity but, surprisingly, some important parental control functions are missing, screen time daily limits and automatic internet filter being among them. Activity summary and reports seem not to be presented in this app at all.
It's not clear whether you can switch the modes on a particular device or you have to reset them every time.
Kidgy vs Kidslox
Here is the comparison of Kidy and another popular parental control app.