We as parents do not want our kids to bump into undesired content like porn, violence, and gambling or to get in touch with shady people on the web. That's why it's essential to provide them with the safe online space. Despite iOS being a restricted operating system, it does allow you to set up some limitations and filtering. This can be done either with the help of Apple's in-built restrictions, DNS service or using third-party apps. You might find the limitation option useful in case you want to guard your child against harmful influence of the Internet and social networks. In this article, you'll learn how to block specific websites on iPhone with the help of various methods.
Native iOS restrictions
To place simple content filtering on your child's iPhone, you need to set up up Apple's in-built parental controls first.
Open Settings on the home screen. Scroll down and tap General. You'll find it atop of the third section.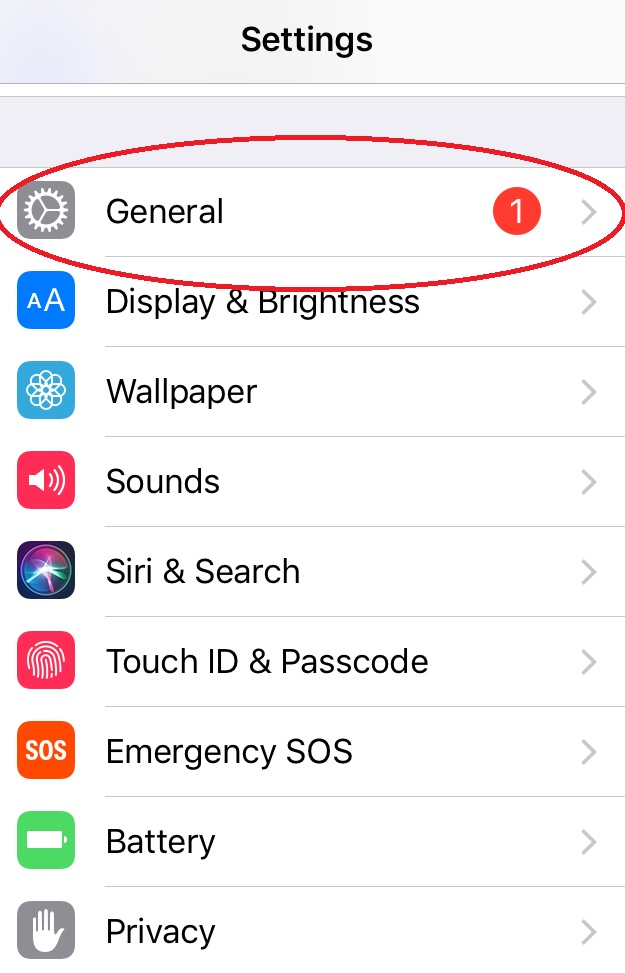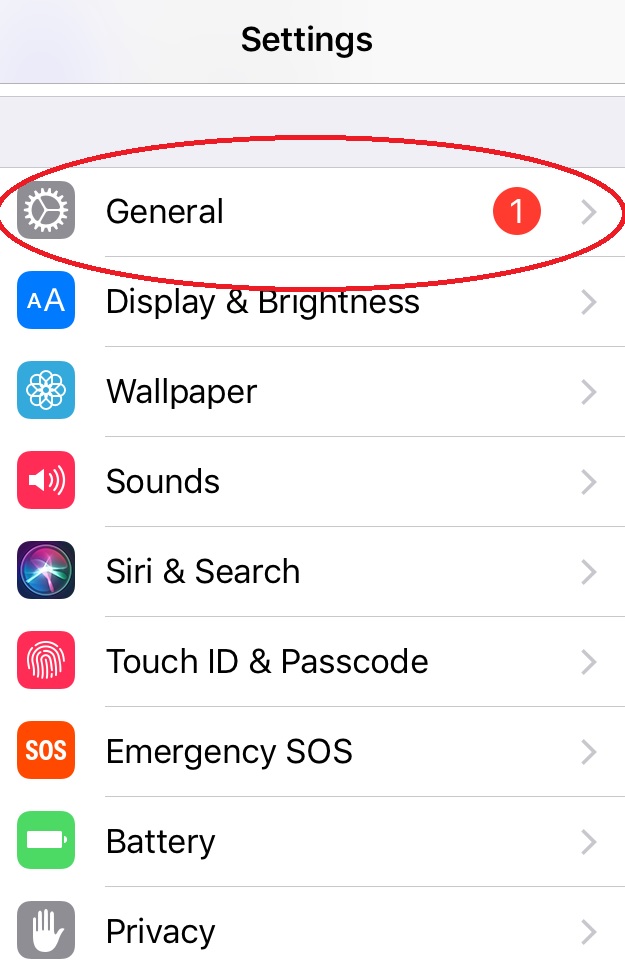 Navigate down and tap Restrictions. You will see this option in the middle of the page.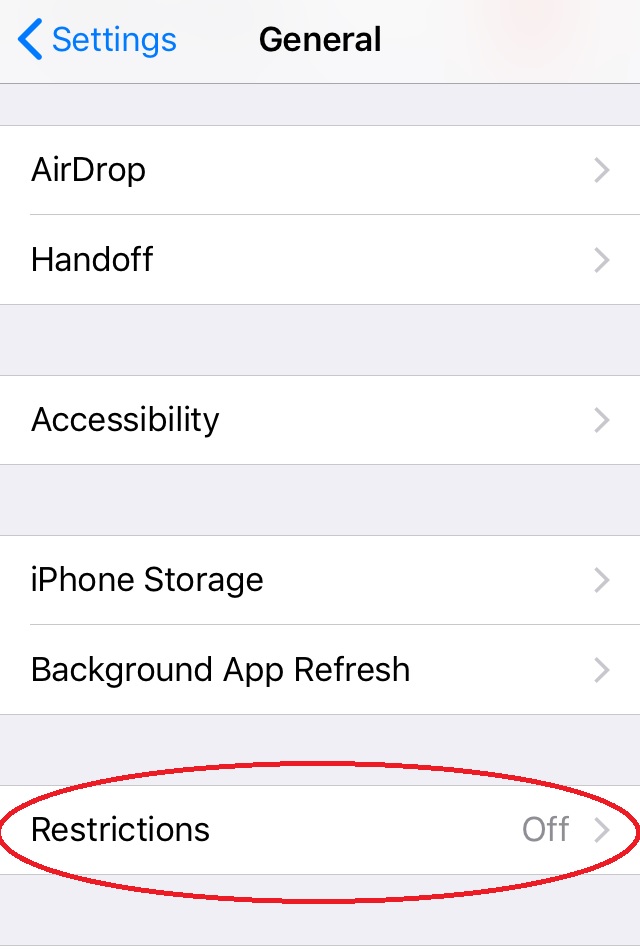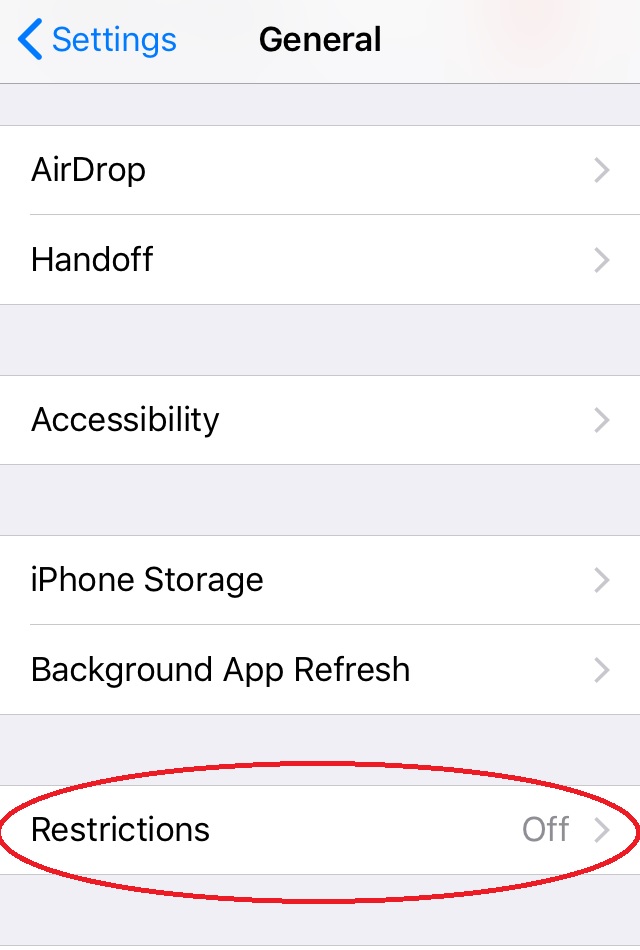 Enter the 4-digit password for the Restrictions if you've enabled them already. In case you haven't done that yet, tap on Enable Restrictions, enter the password you've picked up twice to allow Restrictions. Mind that this password may not coincide with the passcode of the device.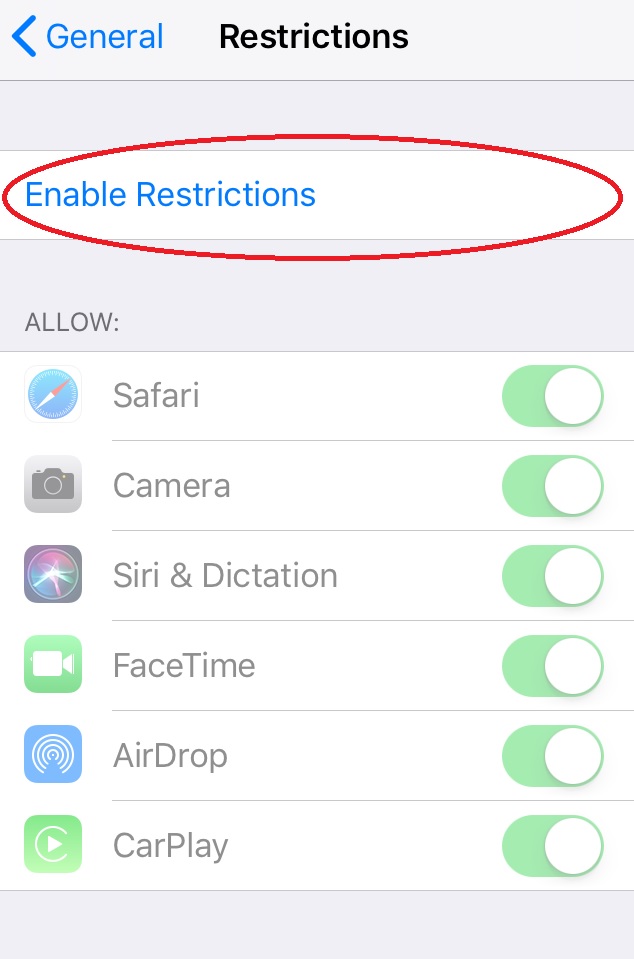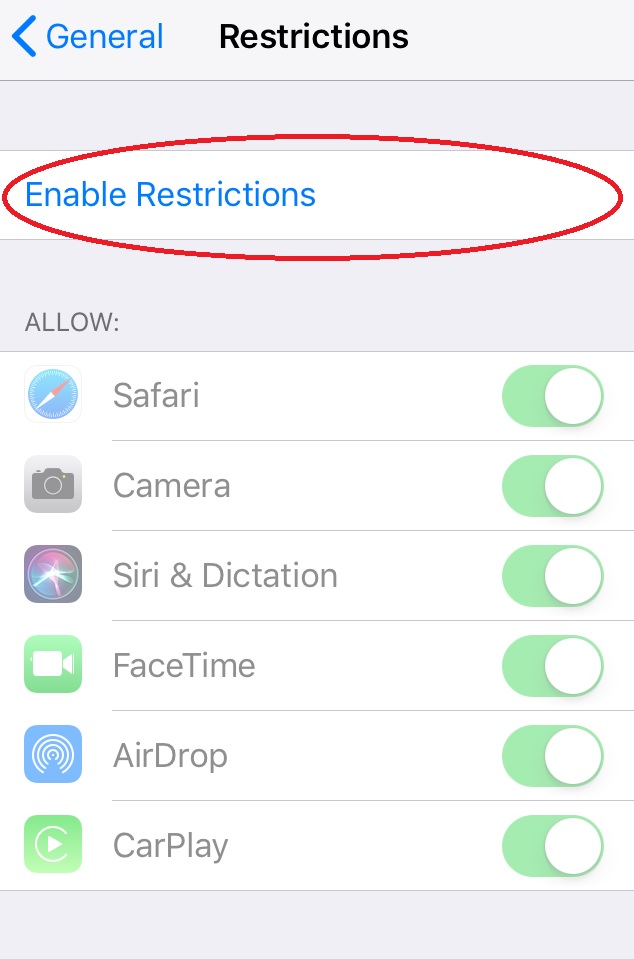 Go over to the Websites option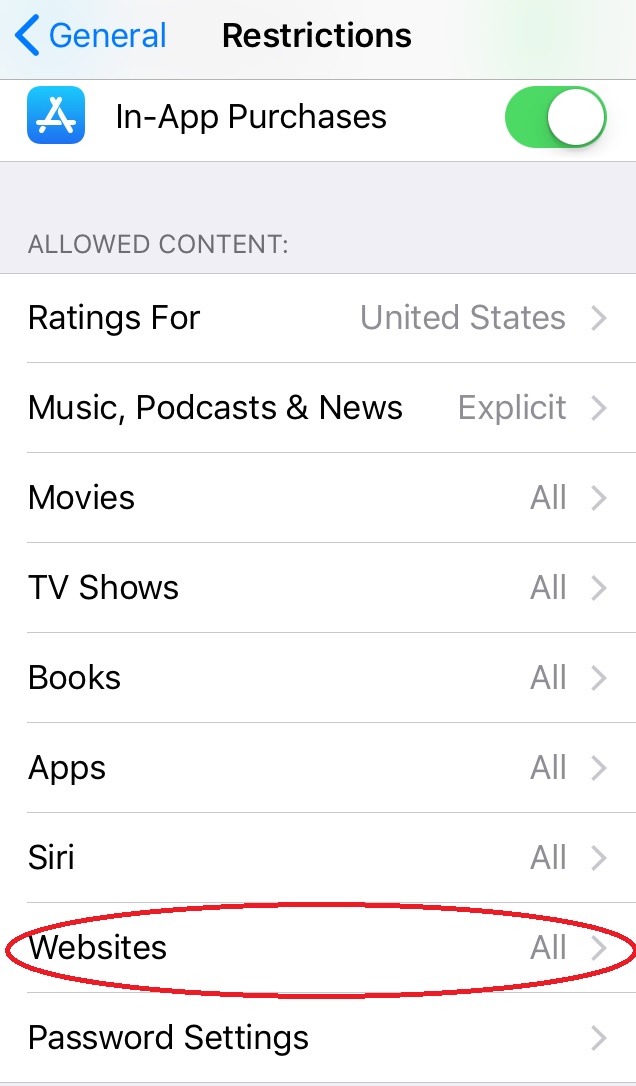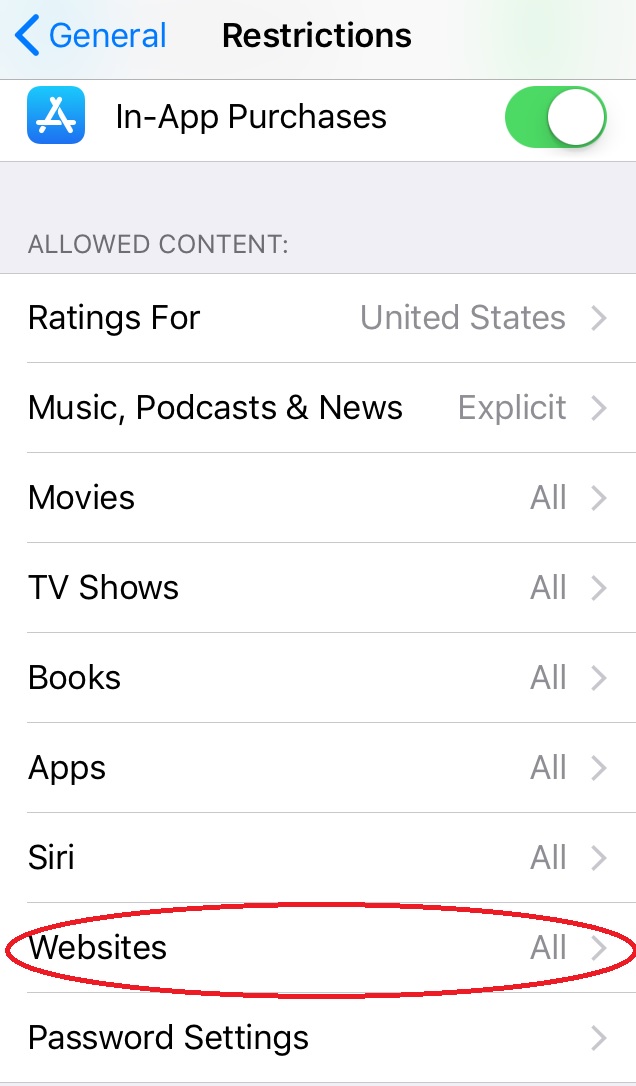 Tap on Limit Adult Content. This will turn iOS web filters on blocking access to adult-themed materials in Safari.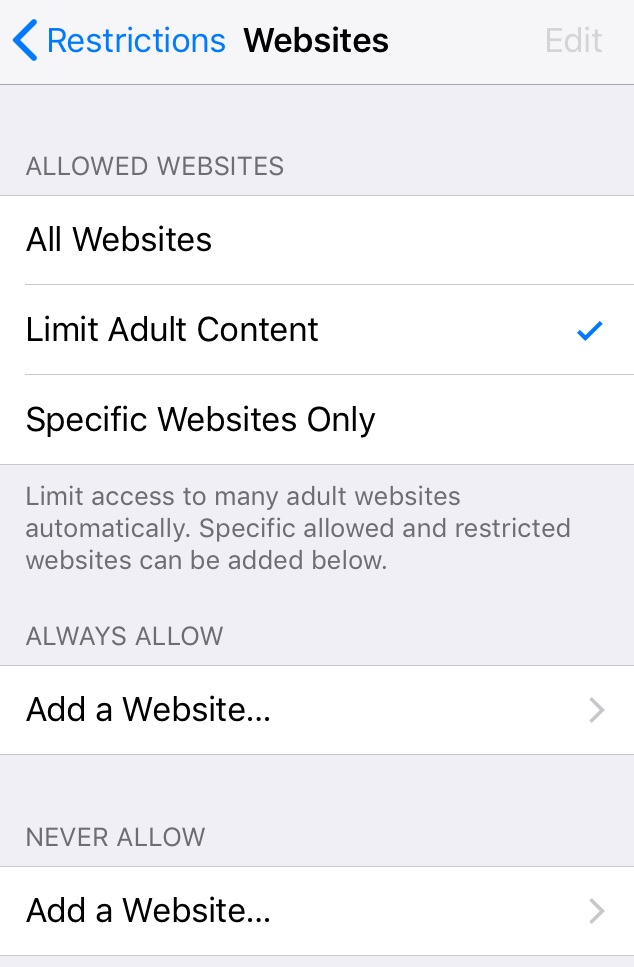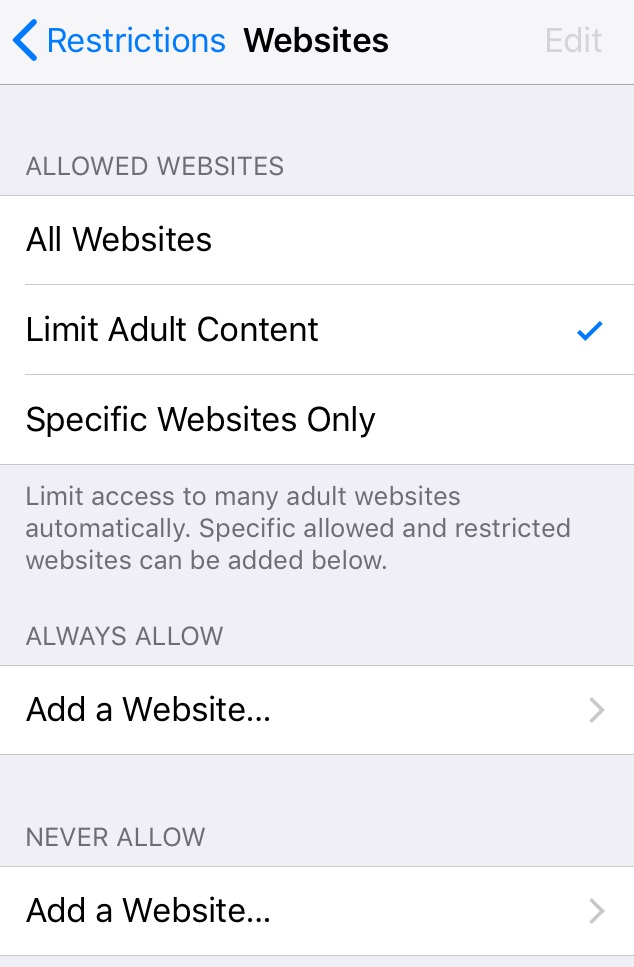 Afterward, additional options for blocking specific websites become available. Select Add a website under Never Allow category and enter URL of the site you want to block. For example, to block access to Facebook, you should enter www.facebook.com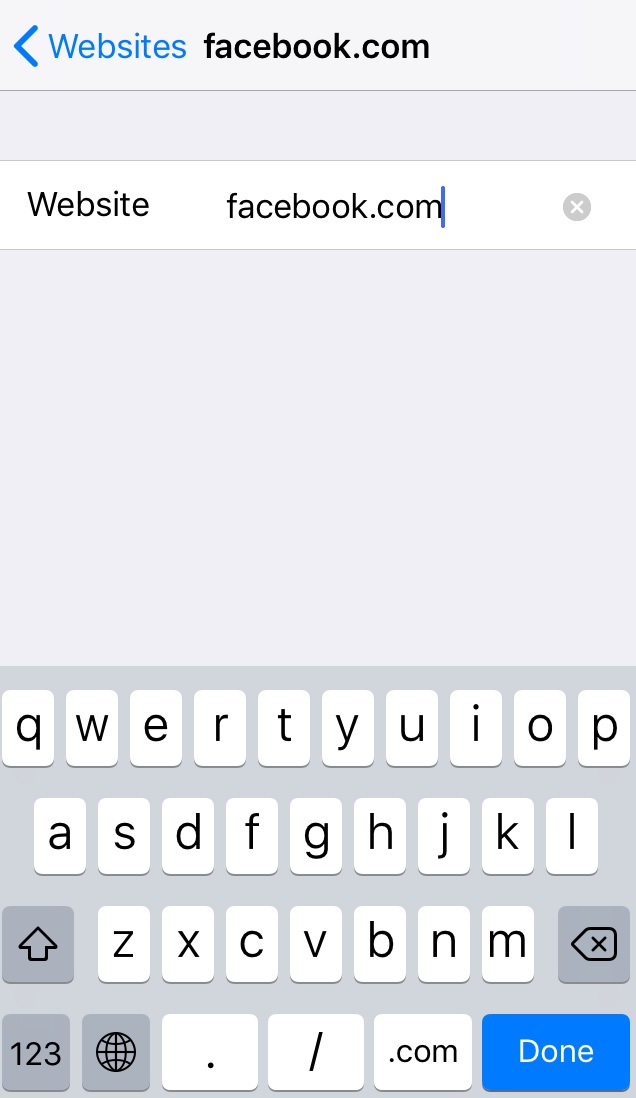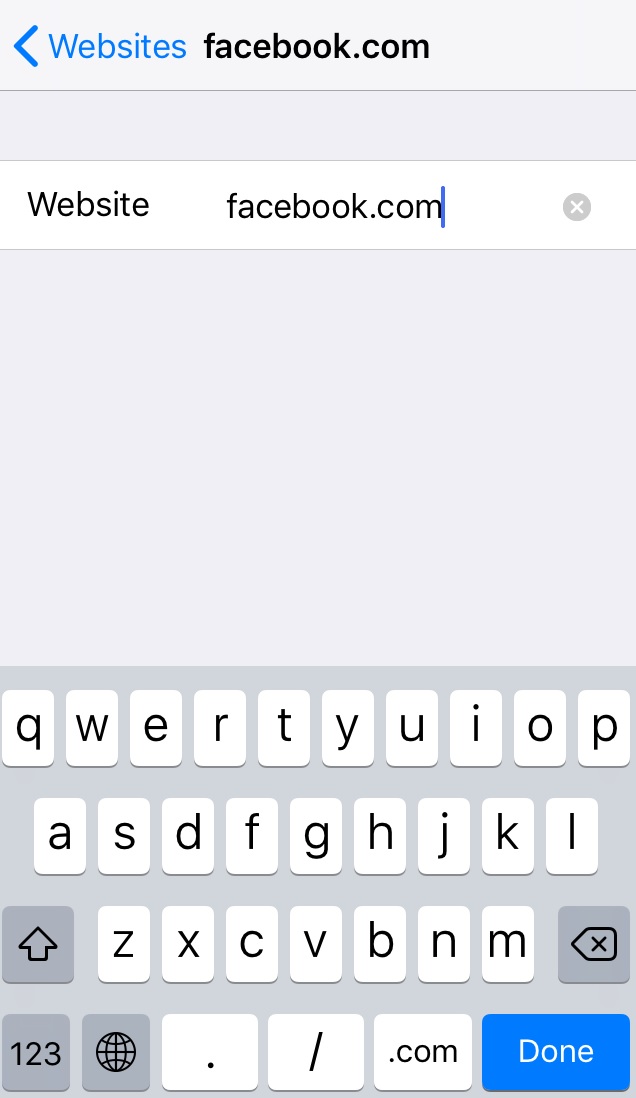 Tap Done and add other sites to the blacklist or go out of Settings.
This method is a basic solution for filtering content. The possibilities of in-built controls are quite limited and might not be enough for you. There is no way you can apply the restrictions remotely. If you forget your Restriction password, then you'll have to erase the device and set it up from scratch. So Apple does not offer a high level of control you might seek.
How to Block websites on iPhone with Open DNS
DNS (domain name system) content filtering is another way to block specific websites. Have a look at the relevant procedure for iPhone. Also, keep in mind that the instructions are only applicable with wi-fi connection since changes are not allowed with mobile data enabled. Also, changes are attached to the specific wi-fi network, so as soon as you shift to a new network, you'll have to undergo the set-up procedure once again.
Tap on the Settings icon on your child's iPhone home screen. Go to Wi-Fi category and choose your network. Then tap on the arrow or 'i' button to the right of it. Precede to the DNS field and remove the DNS server substituting it with a new one. For OpenDNS, you need to enter 208.67.222.222 and 208.67.220.220.
When this is done, you might apply content filtering for particular wi-fi network. To do that, you need to enter the OpenDNS dashboard. If you haven't got an account yet, you'll have to sign up first.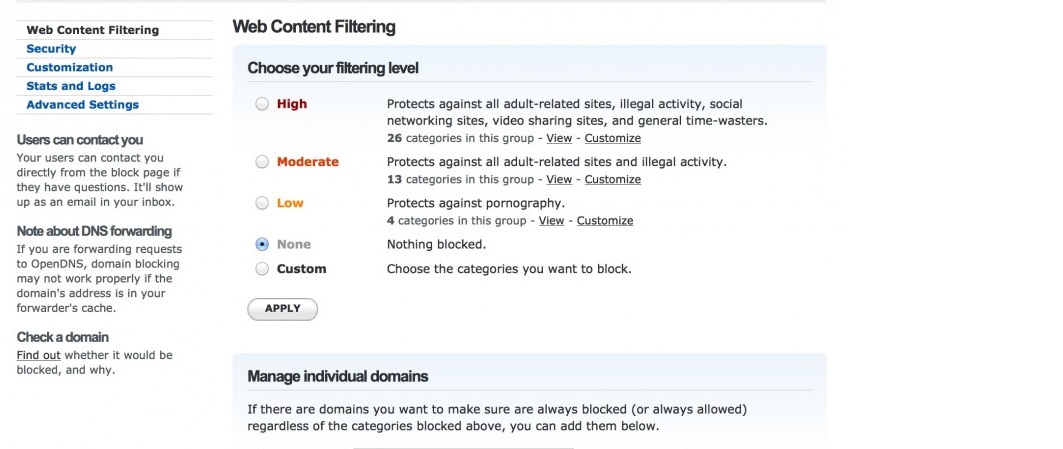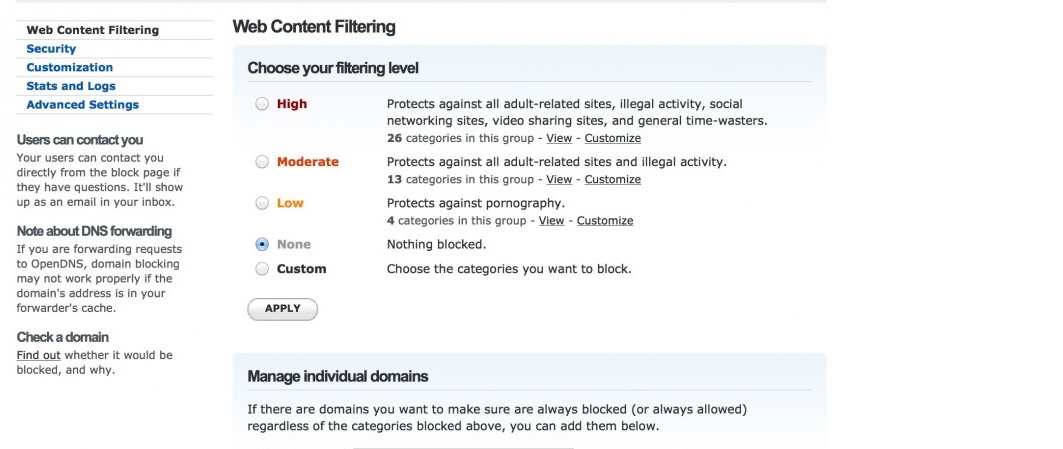 Under Settings section choose the relevant wireless network that you want to adjust changes for.  Tap on Web Content Filtering on the left and available options would be displayed. Choose the degree of web filtering you need and tap Apply.  It is also possible to block access to an individual domain with OpenDNS by entering the domain name into the entry line.
This way of blocking may not be convenient since you need to set up the filtering for every wi-fi network separately. For example, you need to go all over the procedure for home and school networks. Also, keep in mind that OpenDNS will keep all your browsing history as DNS requests go to their servers. So it's up to you to decide if you trust the service or not and if you accept such level of security.
Blocking websites on iPhone using Kidslox
Kidslox is one of the most famous parental control apps featuring content filter on the market. There is a 14-day free-trial to test all its powerful capabilities. The app is easy to install and navigate. Let's have a closer look how to manage web filter on your child's iPhone using Kidslox.
First go to the AppStore on the child's device, enter 'kidslox parental control app' in the searching field and pick the software from the list.  Download Kidslox from the Store.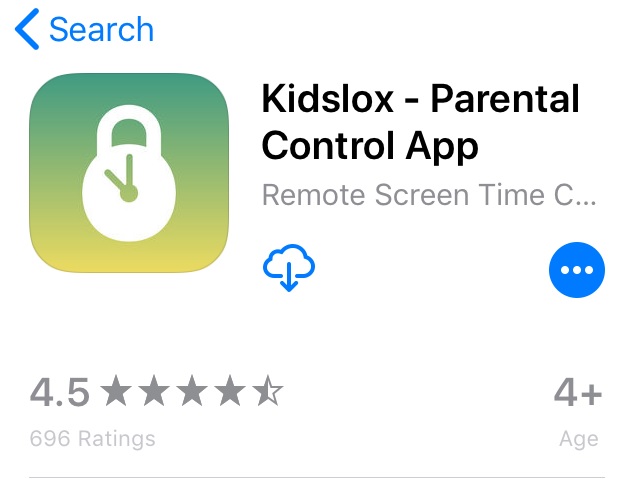 To start using Kidslox, you need to create an account first.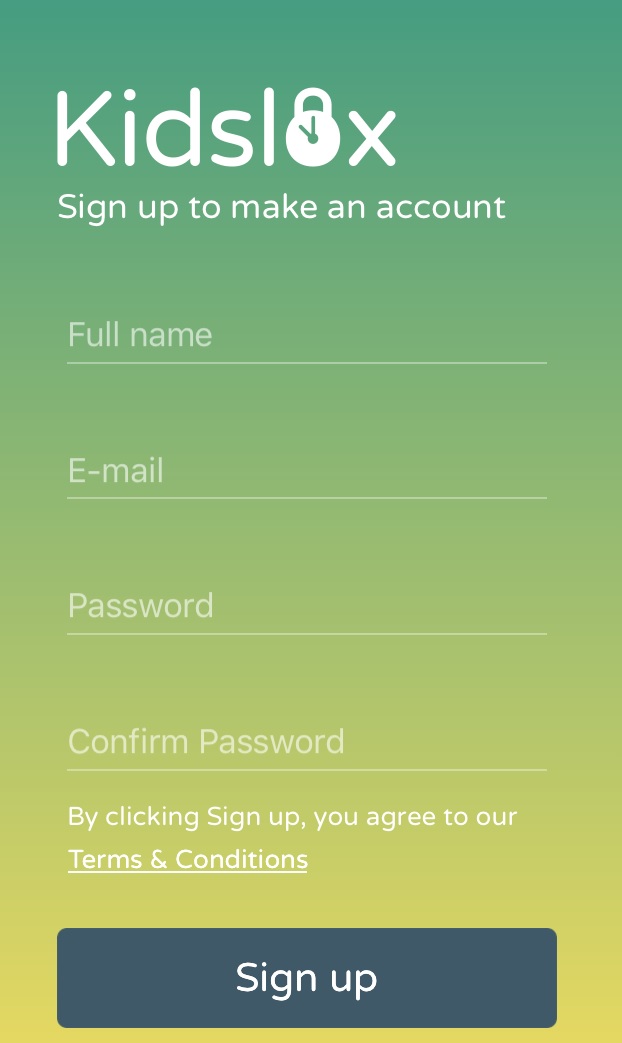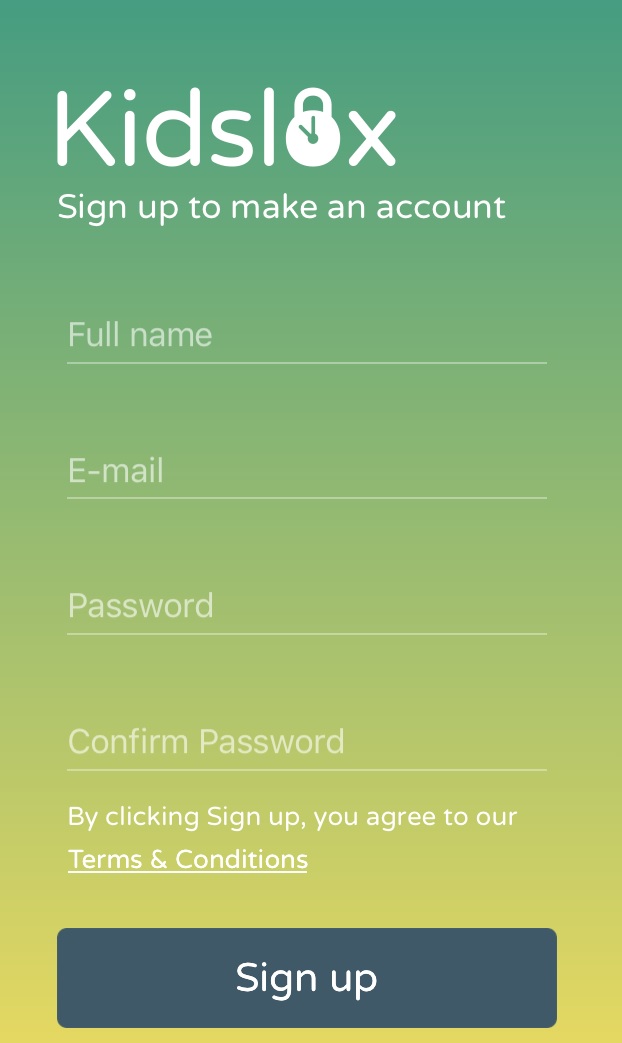 After that undergo an easy setup procedure. If you want to set the restrictions remotely download Kidslox on your parent's device as well.
Now you can start blocking websites on your child's device. You can block websites manually from the child's phone, from your own mobile device (either iOS or Android) or from your desktop by log in your account on our website.
To set up Web filter go to Restrictions tab and find Content Blocking section. By default, Kidslox blacklists around 4 million URLs containing the unchildish and malicious type of content such as adult, gambling, drugs, violence etc. The list is updated every week so you can keep calm and not worry about your kid's online safety.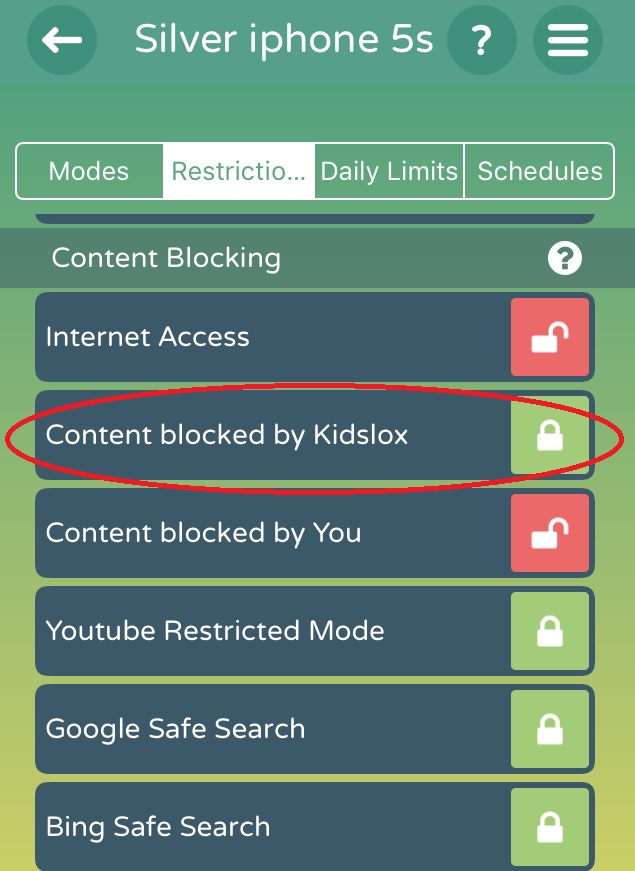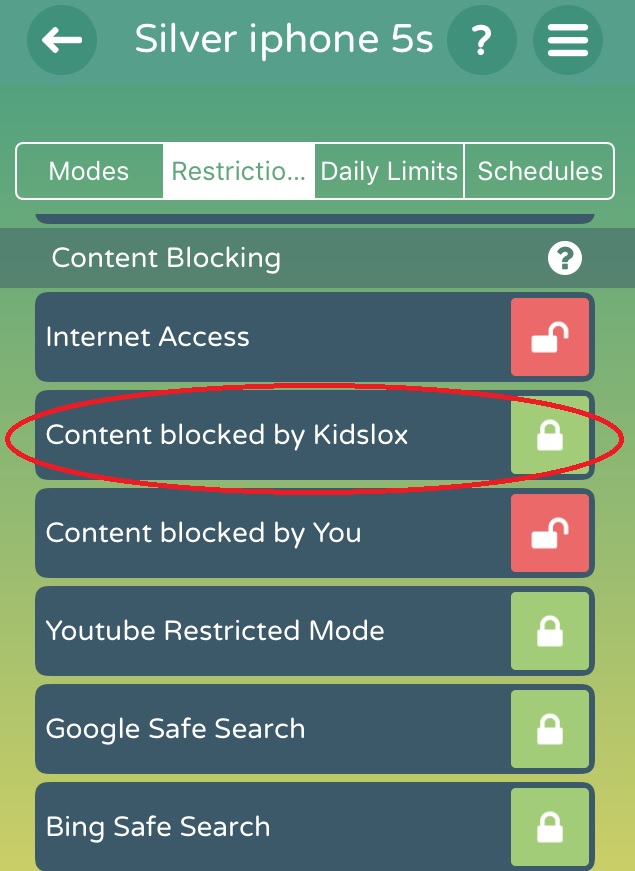 Under Content Blocked by You you'll be able to add speсific sites to the list of blockable URLs.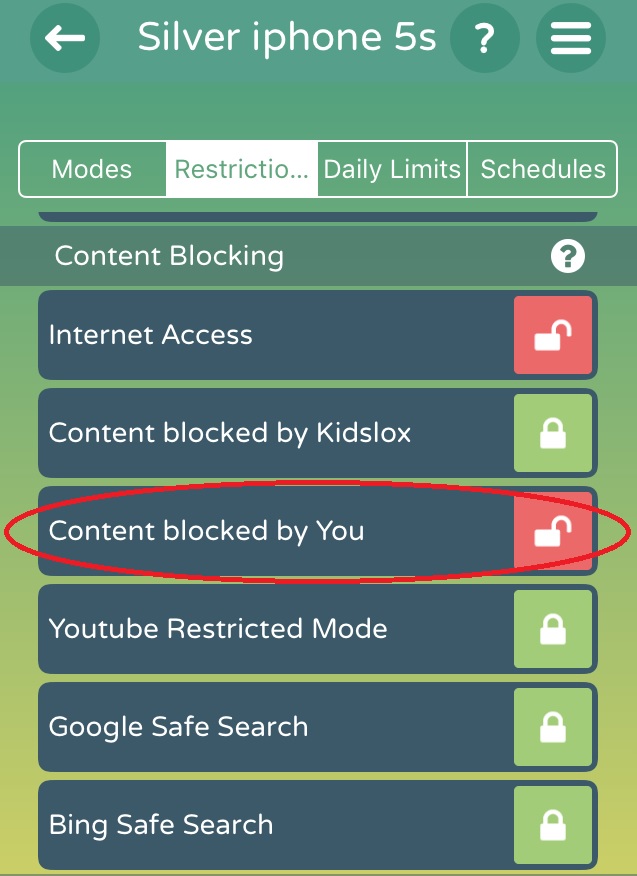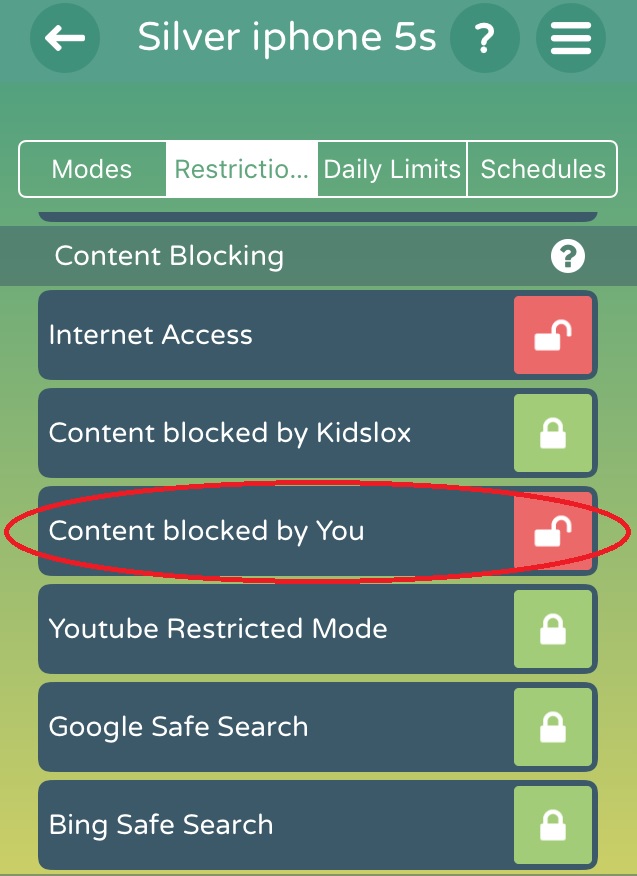 After you've added the website, an attempt to open a banned site will result in the display of such a window.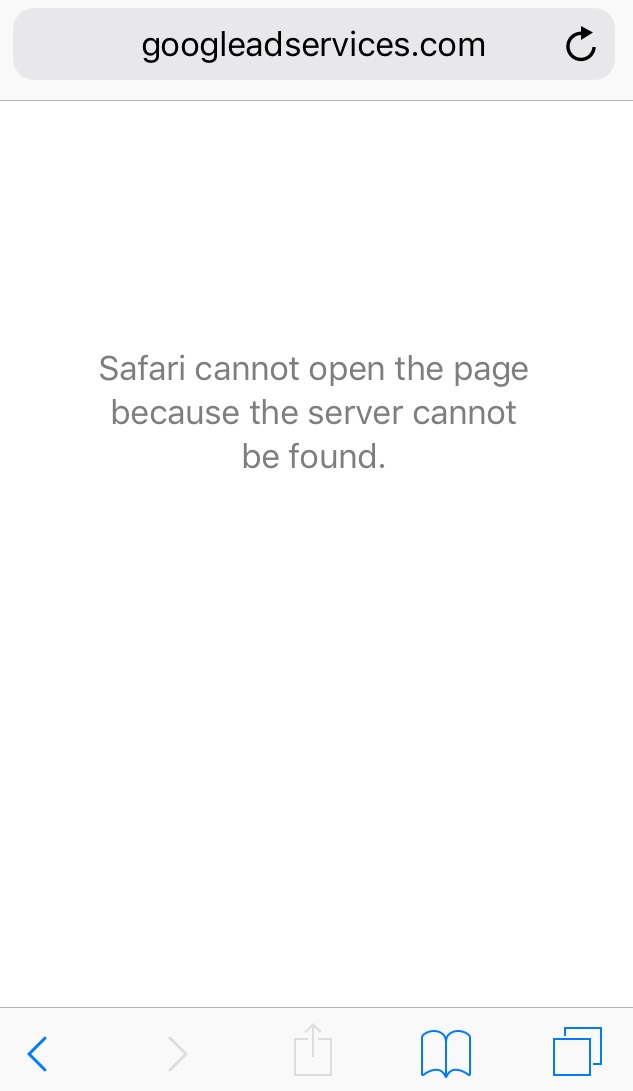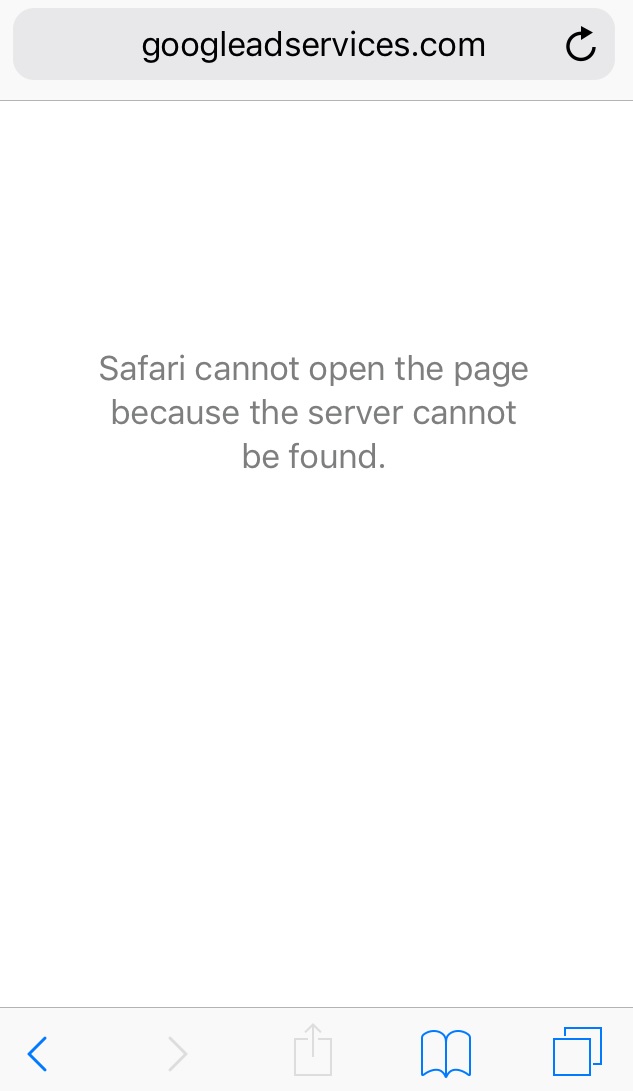 Please mind that the limitations will come into effect as soon as the child's device is switched into Child mode.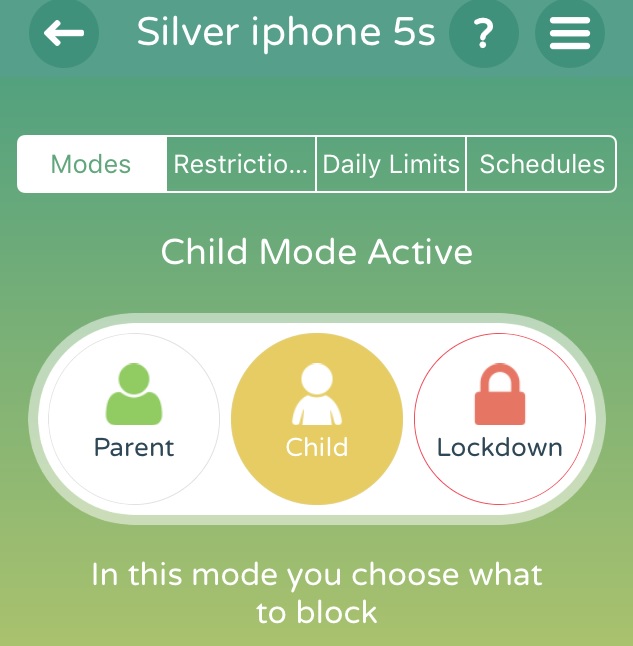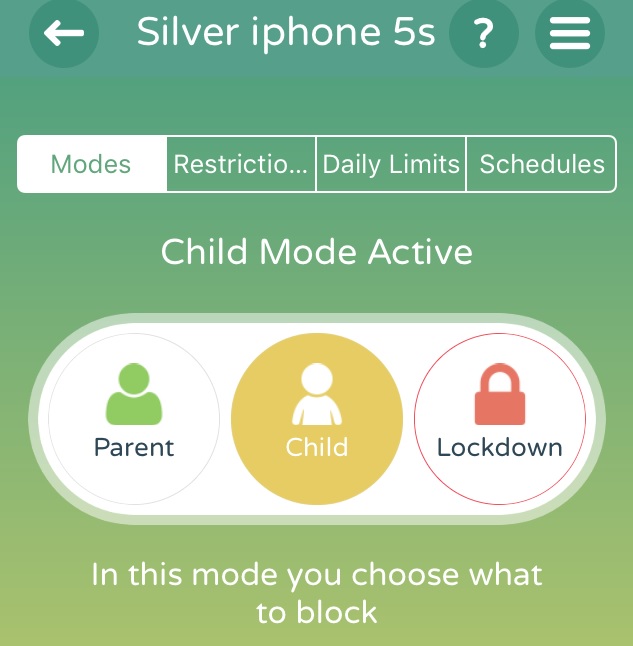 If you want to unlock the site or disable Content Blocking option, you need to enter Kidslox PIN, switch the child's device into Parent Mode and change the Restrictions.
You can be sure Kidslox is a secure way of comprehensive web filtering. You can set it up to meet your family needs and what is more exciting there is a possibility to manage your child's device remotely. Apart from the content filter, users can discover other Kidslox great features like individual app blocking, daily limits, schedules.
Summary
We overviewed three various ways to block websites on your child's iPhone. While Apple in-built restrictions are primitive and limited, and OpenDNS method requires wi-fi and isn't 100% secure, parental control app like Kidslox seems to be a perfect solution to content filtering problem. Anyway, it's up to you to decide what method fits your family needs best.
Smartphone users who prefer Android phones can also read about how to block websites on Chrome Mobile and make their browsing safer and more pleasant.