Parental control solution for digital kids
Our kids spent a lot of time online every day surfing the internet, watching a video or playing games. No surprise that parents are looking for different ways to keep an eye on their digitally advanced kids, control and manage, or at least monitor, their screen time.
But we have to admit that not all the screen time is bad. Now it's a part of children's routine whether we want this or not. Kids and teens use their computers and other electronic devices for study, to communicate with friends, and for other social activities, or just as a platform to share their talents with the world and, of course, for entertainment.
Net Nanny parental control
The main question for the most parents is not whether we should let kids use all the advantages of modern technologies or not but rather how we can keep them safe online. And taking the device from them is often not an option. We need somehow to guide our kids in the digital dimension and help them to form healthy screen time habits.
Net Nanny is a software that offers you the solution to this problem. Since 1996 it has been used as a parental control service or rather a content-control service by thousands of users worldwide.
It has been rated recently as the best parental software by TopTenReview.
Net Nanny is available for laptop and desktop computers, tablets and other electronic devices (on iOS or Android)
Screen time limits 6/10
Screen time issue is probably the main reason why today parents are looking for a parental control solution of some sort. Net Nanny provides you with a bunch of instruments to help you manage your children's and your own time online.
You can schedule when your child may access the internet or use different apps on their smartphone or tablet. Also, you can block internet access for a particular time period (like bed or dinner time, or time when the child is at school), so that kids may not secretly sneak to the internet at midnight or start their day early in the morning from watching clips on YouTube.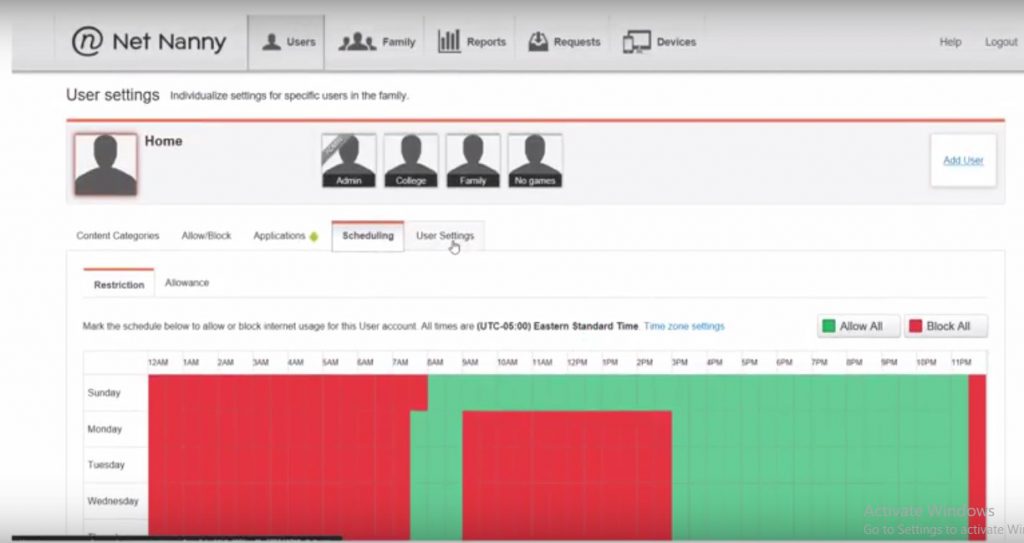 So, when it has to with screen time limiting Net Nanny is pretty good, not better and not worse than the most parental control apps. We give 6 points out of 10.
Content filtering 9/10
Most parental control apps give you an opportunity to block inappropriate content on your children's devices. Net Nanny is not an exception. And content control and filtering is probably the strongest feature of this software.
Net Nanny limits online content and certain types of websites your kids may access intentionally or accidentally (like pornography – you might be surprised or even shocked but modern kids get an access to pornography in quite an early age due to the internet use). The software provides you with the age-based category filtering for each family member or each device in your account. There are about 18 different content categories to block. Or you can manually add materials you want to be blocked for each particular profile/device to the blocking list. Gaming and chat restrictions are also available.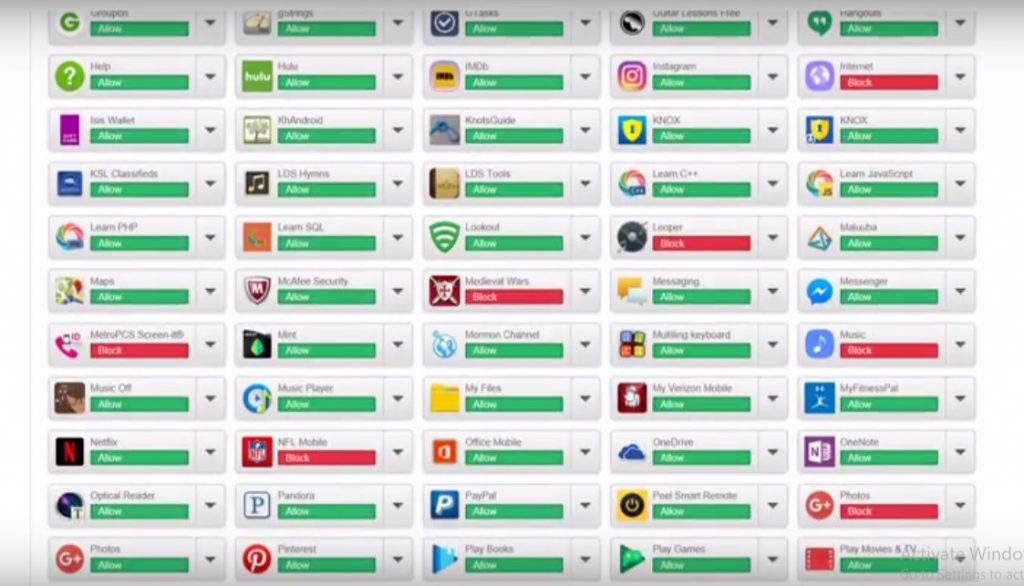 Mask profanity seems to be a unique Net Nanny feature. This option does not ruin children's online experience by merely disconnecting them from web browser or application but blinks rude words or hide pictures with inappropriate content. This is really good and I think this is one of the reasons for Net Nanny' s popularity.
Obviously, Net Nanny is good with content filtering. 9/10.
Other features 5/10
Net Nanny has some other features which are very much similar to the most parental control software. They include
Safe Search options

Content and websites whitelist/blacklist

Custom filtering categories

Remote administration and reports

Email notifications

Alerts, when your child is trying to access an inappropriate content and weekly reports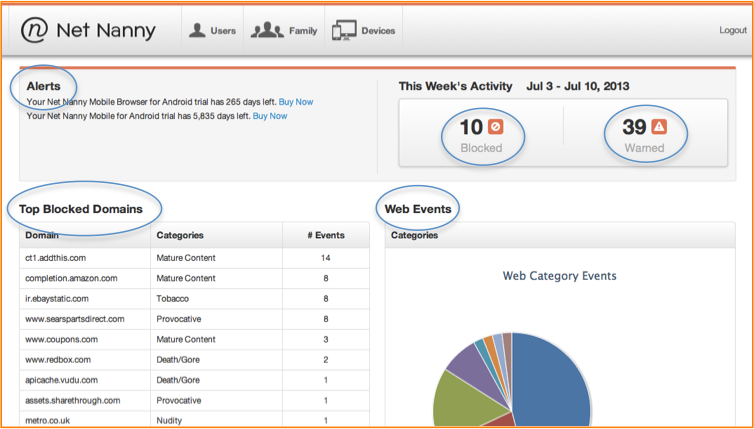 Again, this is a pretty standard set of functions. 5/10
Net Nanny subscription plans 2/10
I found pricing policy of Net Nanny quite disappointing. Though they declare that it will cost you from 9 to 12 dollars per device for the whole year, in fact, the minimum price you will pay to start using Net Nanny is $39.99 for a single computer. You can connect up to 5 devices for $59.99 and up to 10 for $89.99 (and this is the price after discount!).This is much more than most other parental control solutions expect you to pay to start using their product. For example, Kidslox gives you the same package just for $39.99 per year and you can get the lifetime subscription for one payment of $79.99.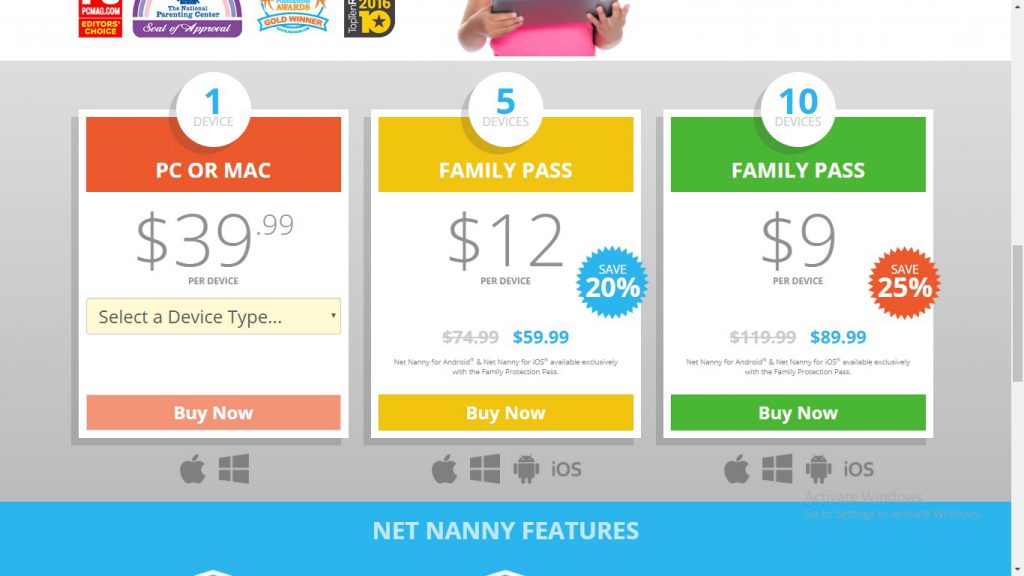 Most parental control solutions give you monthly subscription opportunities while Net Nanny offers only yearly subscription without a chance to have a free-trial. The 14-day return policy is a weak consolation. Price is not Net Nanny's strongest feature. 2/10
Summary 5.5/10
Generally speaking, Net Nanny is good (no wonders why it is in the Top 10 parental controls list) but a bit overpriced parental control software with special attention to the content filtering and blocking.