This is one of the most common questions we get about Kidslox.
People are often surprised when we tell them about the powerful feature
s of Kidslox especially when it comes to implementing them on Apple's tightly regulated iOS software.
Kidslox works by installing an official Apple Mobile Device Management (MDM) profile onto the device you wish to control. This profile enables Kidslox to carry out the remote features over the internet (WiFi or 3G/4G) which means the parent doesn't even need to be in the same location as their child's device.
It's fairly similar for integrating Android devices. You can control iOS devices from Android devices, and vice-versa.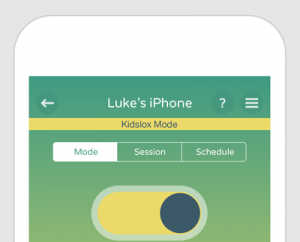 Example
Let's say a parent wants to to apply tighter restrictions to their child's device. Using the Kidslox app (or web app login through a web browser) they move the switch from 'Normal Mode' to 'Kidslox Mode'. This sends a message to the child's device over the internet, telling it to apply the tighter restrictions.
Support
Our Support section covers more commonly asked questions at Kidslox.