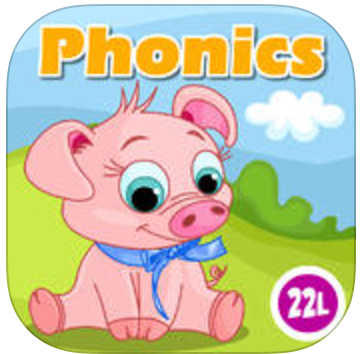 In our recent #CrowdParenting survey of the Kidslox community, we asked about educational apps that parents are willing to recommend. Overwhelmingly the top spots in the survey were dominated not by individual apps that aim to build up skills in a particular area, but either by app developers with a range of educational offerings or by portal apps that allow students to access wider educational platforms.
There were a few standout individual apps that were recommended for their own specific strengths though. Duolingo is one that we've looked at before and which made 10th place on the list. New to us, but just missing out on the top positions, 22Learn's 'Phonics: Fun on Farm' made 15th place on our list.
Trusted developers
Developers 22Learn have a wide catalogue of educational apps and judging purely by their app store ratings (admittedly not the best of guides), they seem to be trusted and recognised as high quality content producers. We decided to put that to the test with "Phonics: Fun on farm".
The app itself
The app is aimed at children aged 3 to 7 who are in the process of learning to read. It's formed of 6 different levels, each focussing on different letters and sounds. At each level children are presented with 12 different mini-games and exercises (in the same format for each level), which present and provide practice of that levels sounds.
The games are colourful, attractive and cute, but what is their educational value?
The games follow a systematic structure; played in the order they're presented they first introduce the letters and sounds, then have kids recognise them individually, trace their form, recognise them as part of short words and then read short words made of those sounds. It seems very comprehensive and younger kids especially will engage well with it. I'm going to take the app's recommendation by Kidslox users as a testament to it's effectiveness over longer periods, as I'm unable to test that quickly myself.
This app has a very specific purpose, to teach basic reading skills. If your child has already mastered them, Phonics Farm will feel somewhat dry and simple for them. If they haven't, it's a great tool for the job and well worth shelling out a couple of dollars for.
Here's a link to their app store page.
Whilst many of 22Learn's apps appear in the Play store too and are also highly rated, Phonics Farm is only available for iOS at the time of writing.